Welcome to the official website of Drotsky's Cabins
In the North-Western corner of Botswana, situated on the banks of the Okavango River, in the panhandle of the Delta, you will find the lush green lawns and tall, shady indigenous trees, a paradise called Drotsky's Cabins. Thirty years ago, Jan and Eileen Drotsky put their roots down here, and today still own and manage the Cabins, one of the first lodges in Botswana.

At Drotsky's you will receive a warm welcome, enjoy personalised attention, and get local knowledge from owners and staff alike on the nature and communities in the region. The area is a birding and fishing paradise. Drotsky's is the ideal stop over for tourists en route from or to Namibia and a wonderful place to relax for a few days while enjoying a boat cruise on the Okavango River, or visit the nearby World Heritage Site of Tsodilo Hills and Mahangu National Park.

Bird life is abundant at Drotsky's, and the staff will be quick to point out their local specials such as the Brown Firefinch and White-backed Night Heron, or the haunting call of Pel's Fishing Owl.

A boat cruise from Drotsky's is the perfect way to witness the feeding frenzy of the Barbel Run, taking place from August to October each year. Thousands of barbel swim upstream in the Okavango River, slapping their tails to create confusion amongst the smaller fish species, which soon becomes the barbel's next meal. The ever opportunistic tiger fish join in the hunt, while hundreds of Egrets, Darters and Cormorant follows suite, and keen fishermen cast their lines and try to hook "the big one".

The lodge supports the local community by buying their fresh produce in the nearby village of Shakawe, and three delicious meals per day are served in the restaurant overlooking the Okavango River.

Guests are accommodated in luxurious air-conditioned wooden chalets, or for the more adventurous there are 20 spacious campsites nestling under large, shady jackal berry and other indigenous trees.
---
Location
Drotsky's is situated 10km South of the Village of Shakawe, on the North-Western panhandle of the Okavango Delta, 25km from the Namibian border, and can be reached in a normal sedan vehicle with 2-wheel drive (see directions). For guests that prefer to fly in, return transfers can be arranged between Shakawe Airstrip and the lodge.
---
FAQs
Is there cell phone reception:
Drotsky's is situated in a rural area and cell phone reception is available but may be intermittent. BeMobile has the best reception in the area, and Wi-Fi is available at the main lodge.
Is there electricity:
the lodge has 220V electricity, and plug points has 3 round pins; you will need an adapter for square pins or two pin plugs. Each campsite is supplied with an electric light and power point.
Can we pay by credit card:
The lodge has credit card facilities (Visa and Mastercard only), and will accept US$, Euro's and ZAR at the current exchange rate. A Barclays ATM is available in Shakawe, or at Gumare.
Is there a restaurant on the premises:
Breakfast, lunch and dinner is available from the main lodge
What shops are nearby:
The village of Shakawe has a Choppies Supermarket, Pep Stores and a local restaurant.
Suggested items to bring along:
Binoculars and camera, cool clothing for daytime, long sleeves for evenings and warm jacket for winter nights, sunscreen, sunglasses and a hat; insect repellent, comfortable shoes.
---

Accommodation
10 en-suite wooden chalets
20 large, shaded campsites
Read more about our accommodation.
---
Facilities
Restaurant
Lounge and bar
Wi-Fi
Lush green gardens
Swimming pool
Read more about our facilities.
---
Activities
Birding and fishing by boat
Boat cruise on the Okavango River
Visit to Tsodilo Hills (map)
Game viewing in Mahangu National Park
Read more about our activities.
Download our
bird list
.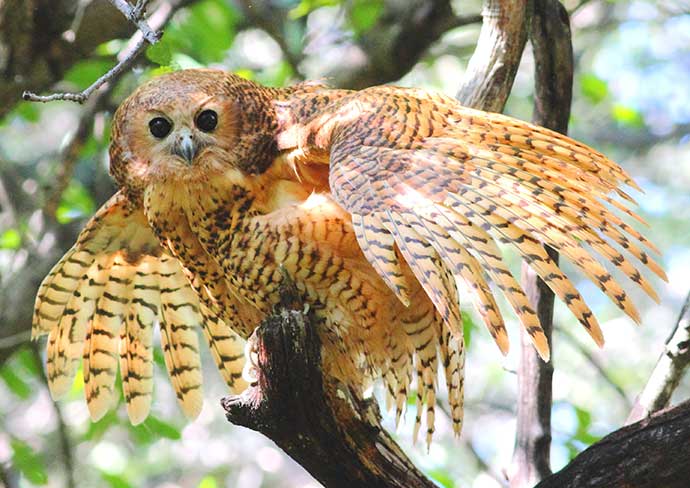 ---
Guest comments
"This is a very special place with an amazing owner... Lots of fun..." (JCW, California)
"Good food and plenty of attention" (Kevin A, Australia)
"Guides were really well informed and hospitable…" (Francois, South Africa)
"The highlight for us was the three hour boat trip on the Okavango." (AnnieFS, United Kingdom)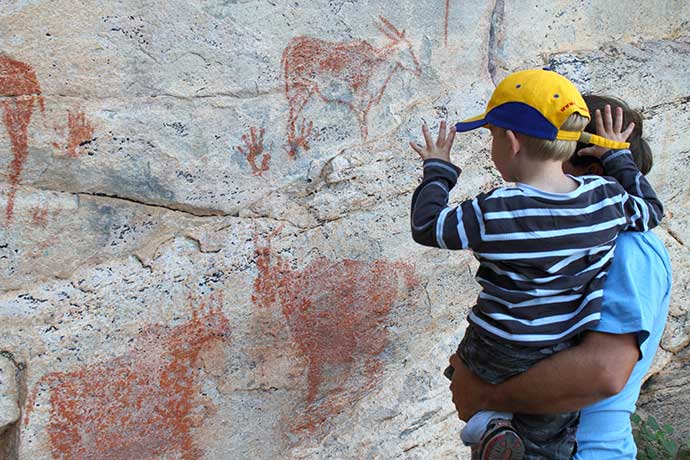 ---
Nearby places
Shakawe  10km
Gumare   128km
Maun   375km
Ghanzi   463km
Rundu, Namibia   260km
Katima Mulilo, Namibia   372km